SAVE THE DATE!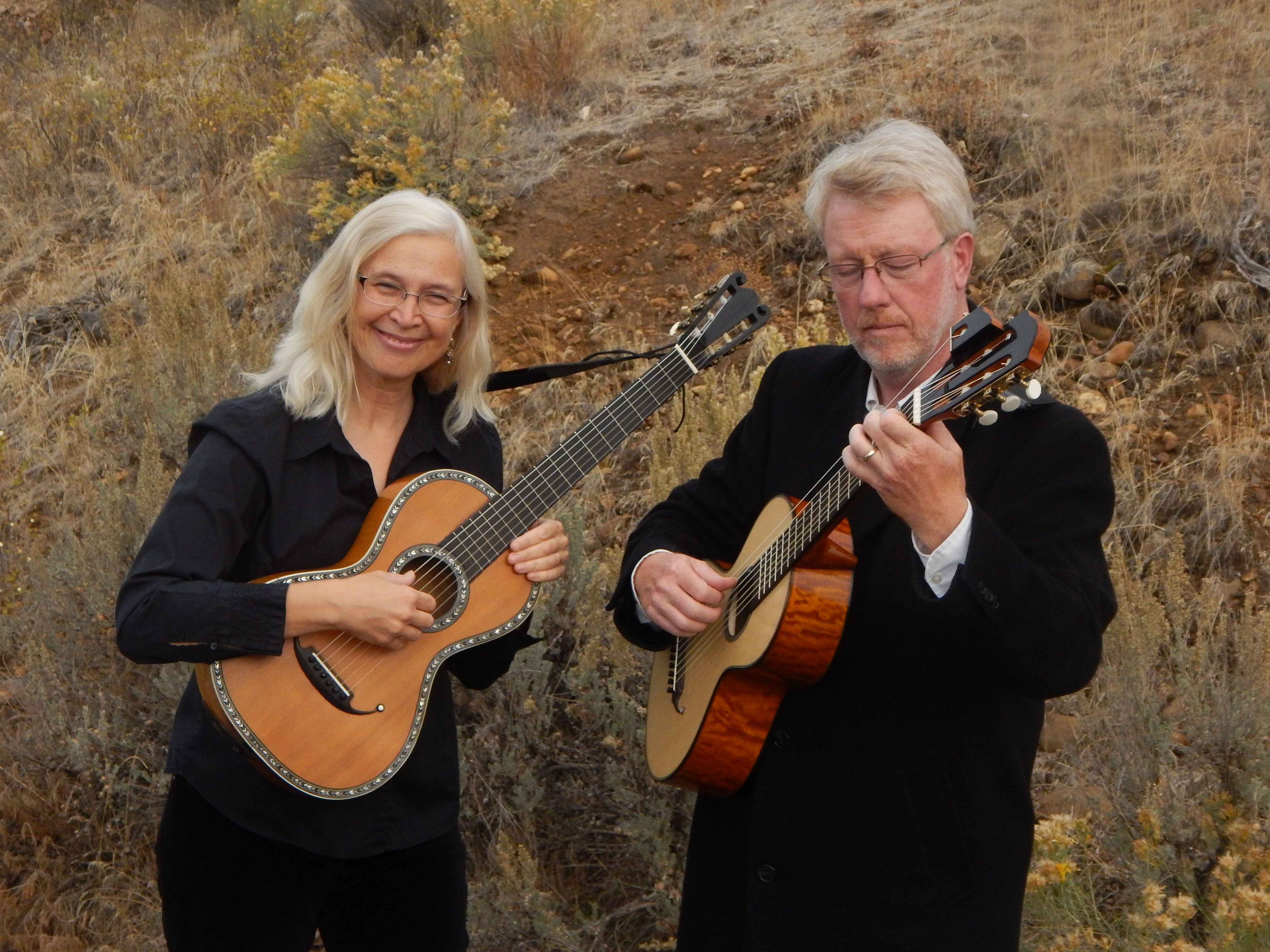 Livestream link available on April 30 at 2 pm PT on the SCGS You Tube Channel:
https://youtu.be/GU9mrANIWqY
Click here for concert program!
Please join us for a free concert and free lecture demonstration with the Caulkins Duo!
Neil and Tamara Caulkins have been playing guitar together since they met during a guitar ensemble rehearsal many years ago. A forgotten manuscript of duets by Isidro de Laporta (fl. 1790-1820) on the shelves of the Royal Conservatory library in Madrid introduced Neil and Tamara to a wealth of early nineteenth century music for two guitars. They are currently bringing this repertoire to life through research in archival sources and a study of historically informed performance practices on early nineteenth century instruments. The Duo currently tours throughout the US, including performances in New York, Calgary, and throughout the Southeast and Pacific Northwest. Please enjoy this video of the Caulkins Duo performing Rondo by Monsieur Henry:
The Caulkins Duo perform Rondo by Monsieur Henry
Sunday, May 1st, 1pm - Free
Neil Caulkins: Free Lecture Demonstration
Improvisation in Early 19th Century Guitar Music
In-person and livestream
Maple Leaf Lutheran Church
10005 32nd Ave. NE, Seattle, WA 9812
Livestream link available on May 1 at 1 pm PT on the SCGS You Tube Channel:
https://youtu.be/PBsr7jUjgMI

Neil Caulkins of the Caulkins Guitar Duo will present a free workshop on Improvisation in Early 19th Century Guitar Music on Sunday, May 1, 1 pm PT, at Maple Leaf Lutheran Church, Community Hall. Neil has generously offered his scholarly article to SCGS members on 19th century improvisation, originally published in the GFA Magazine, Soundboard, to introduce his upcoming lecture demonstration.

All youth guitarists through 12th grade
in Washington State are invited!
Sponsored by the Augustine Foundation, this is a wonderful opportunity for youths to participate in a virtual guitar orchestra with their peers. This is free to all and available to any youth up through 12th grade who is studying guitar, in a class, school, or privately.

The piece for Washington State is Partial Eclipse by Richard Charlton.
The music is for various levels, with four guitar parts. One part may also be played on bass.

All the instructions on recording and submitting the video are here:
Washington State Youth Virtual Guitar Orchestra
(Student Video Release Form - PDF)

Here is an MP3: MP3 of Partial Eclipse

The Seattle Classic Guitar Society will provide the score and the parts for participants and their teachers. The students and teachers will not need to purchase music for this project. The team at Virtual Guitar Orchestra is available with any questions or issues, and please feel free to contact Hilary Field at SCGS@seattleguitar.org with any questions or for more information. Please also feel free to forward this on to any teachers and/or students who may be interested. The deadline to send in videos is May 20, and the completed video delivery date on YouTube is June 15.

Links to Partial Eclipse parts:

Guitar 1
Guitar 2
Guitar 3
Guitar 4 (Bass)
Guitar 4 (in Treble Clef)
Partial Eclipse Score

Seattle Classic Guitar Society at Home Presents

Laura Snowden
Saturday, June 4, 2022, at 7:00 pm PT
Online Only - YouTube Premiere - Free

Live Stream Concerts from the Comfort of your Home

Hailed a "string sensation" by BBC Music Magazine, British-French guitarist and composer Laura Snowden is acclaimed for her "poise and intensity" (Guardian) and playing of "extraordinary depth" (Strings, Classical Music Magazine). Laura studied with Julian Bream, during which time she gave two concerts at Wigmore Hall featuring premieres of his recent commissions. This led to international recognition and festival debuts across Europe, China and the US, as well as international concert appearances throughout the world as a performer and composer.

Laura Snowden plays the Parting Glass:
https://www.youtube.com/watch?v=pJLte9a9fZc&t=14s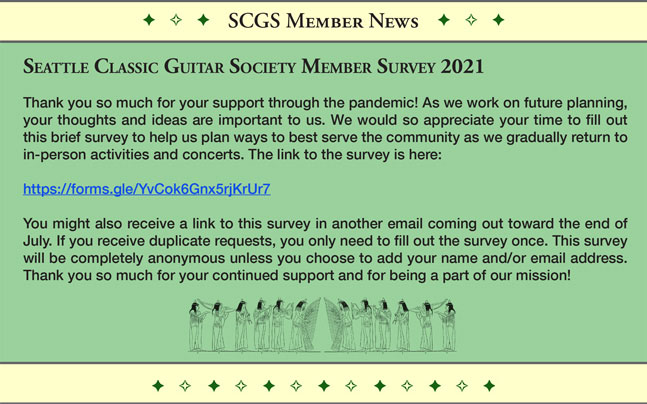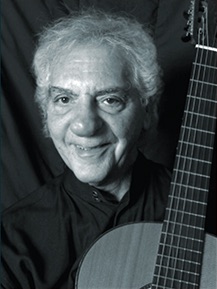 On February 10, 2021, the great classical guitarist and composer,
Jorge Morel, passed away at age 89, leaving behind the legacy of
a repertoire that embraced and wove together genres from
Latin American dance rhythms to jazz harmonies to
classical suites and sonatas.

Click here to read Hilary Field's
tribute to this wonderful composer
in the current edition of the
SCGS Newsletter.