Seattle Classic Guitar Society
Give Big 2020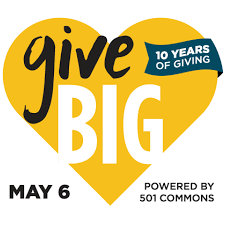 GiveBIG has extended the donation deadline until May 15!

As in previous years, SCGS is taking part in GiveBIG this year. Any donation you make to SCGS through GiveBIG will help us reach our community involvement goals, as we navigate new online ventures and anticipate our return to safe gatherings in person. Through GiveBIG, individuals, businesses, and organizations come together to invest in healing our communities. Thank you in advance for your donation and for being a part of our community's biggest day of giving of the year.

Follow the instructions below to make a donation . . . it's easy!

To GiveBIG

Go to the Seattle Classic Guitar Society page on the GiveBIG website by clicking on https://www.givebigwa.org/seattle-classic-guitar-society, by pasting the URL into your browser, by clicking on any of the GiveBIG logos on this page, or by searching for "Seattle Classic Guitar Society" on the GiveBIG 2020 website.

Fill in a simple GiveBIG form, following the instructions on the page. You'll receive a confirmation email after submitting the form and a tax receipt that confirms the donation when the donation is successfully processed.